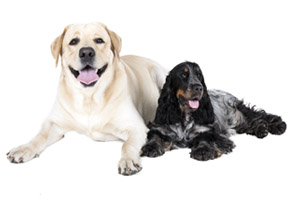 The CCPDT® is the world's only independent testing and certification organization for dog trainers and dog behavior consultants. Part of our mission is to give dog owners a way to identify professional dog trainers and behavior consultants, and we do this through our designations.
When you need a dog or puppy trainer, look for these letters:
CPDT-KA® (Certified Professional Dog Trainer-Knowledge Assessed)
CPDT-KSA® (Certified Professional Dog Trainer-Skills Assessed)
CBCC-KA® (Certified Behavior Consultant Canine-Knowledge Assessed)
Why hire a certified dog trainer?
In a phrase: peace of mind.
When you start your search by looking for our certifications, you know you'll be working with a dog training professional whose knowledge and skills are grounded in the science of animal behavior—and who has a demonstrated commitment to excellence and ethical conduct.
See our guidelines to choosing a dog trainer.
What you get with a CCPDT-certified dog trainer
The CCPDT certifications tell you a number of things about the dog training professionals who hold them:
Proven skills and knowledge of humane, science-based dog training
The drive and determination to successfully complete a rigorous exam process
A commitment to a strict ethical code for personal and business conduct
A commitment to continuing education and professional development
A commitment to enhancing the dog training profession
Find a certified trainer today
With certified members all over the world there's bound to be a great trainer to work with in your area!