CBCC- KA®
(Certified Behavior Consultant Canine-Knowledge Assessed)
For application deadline and fee information for the Spring and Fall testing periods, please visit Deadlines and Fees.
You can find all examination information, including a complete content outline and sample questions, in the CBCC-KA Candidate Handbook, but here's an overview:
Format: Multiple-choice exam.
Time: 3 hours
Length: 200 questions (180 scored and 20 pre-test/unscored)
When: At an appointment you schedule during a 2-week testing period in the fall or spring.
Where: Computer-based testing facilities throughout the U.S., Canada* and via remote proctoring.
Cost: $400
Who: The exam is administered by a professional testing company.
*Don't live in North America? We certify dog training professionals from all around the world (note: the exam is in English). Download the handbook for more information.
What will I be tested on?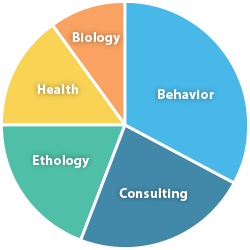 Applied Behavior Analysis = 41%
Consulting Skills and Best Practices = 43%
Ethology, Body Language, Observational Skills = 10%
Health, Development, Life Stages, Anatomy
& Physiology = 6%
For details on each examination domain, download the CBCC-KA Study Objectives.
How our tests are developed
When we develop a new examination, we begin by putting together a committee of recognized subject matter experts in that particular field of practice. Through a series of meetings, these experts develop the content outline for the examination.
Once the content outline is done, additional subject matter experts are asked to draft questions, all of which must tie to a citation in recent literature relating to that field. The questions (called 'items') go into an Item Bank and from there go through the vetting process described above. For a step-by-step description of the process, see Test Development.
This process of exam development follows the testing guidelines of the Institute of Credentialing Excellence.