About the CPDT-KA exam
(Certified Professional Dog Trainer-Knowledge Assessed)
SPRING 2019 TESTING PERIOD 
Application Deadline: Friday, January 25, 2019
Testing Period Begins: Saturday, March 9, 2019
Testing Period Ends: Saturday, March 23, 2019
FALL 2019 TESTING PERIOD 
Application Deadline: Friday, August 9, 2019
Testing Period Begins: Saturday, September 21, 2019
Testing Period Ends: Saturday, October 5, 2019
You can find all examination information, including a complete content outline and sample questions, in the CPDT-KA Candidate Handbook, but here's an overview:
Format: Multiple-choice exam.
Length: 180 questions.
When: At an appointment you schedule during a 2-week testing period in the fall or spring.
Where: Computer-based testing facilities throughout the U.S. and Canada.*
Cost: $385
Who: The exam is administered by a professional testing company.
*Don't live in North America? We certify dog training professionals from all around the world (note: the exam is in English). Download the handbook for more information.
What will I be tested on?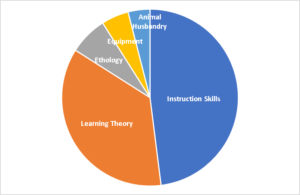 Instruction skills = 48%
Learning Theory = 36%
Ethology = 7%
Equipment = 5%
Animal Husbandry = 4%
For details on each examination domain, download the CPDT-KA Study Objectives.
Practice Test
Are you out of practice on taking multiple-choice exams? Then we have a solution for you! We offer two online practice tests for anyone considering sitting for the CPDT-KA certification exam.
Each 50-question practice test will give you a taste of the CPDT-KA exam. It's a chance to take a computerized exam; experience the content; and learn more about the exam question format, style, and level of difficulty. You have 2 hours to complete the 50 questions and will be scored by testing area.
There are two CPDT-KA practice tests available for purchase! Consider taking one when you apply for the certification exam and the other close to your exam date.  Be sure to note in your files which form you have purchased so you do not purchase the same version twice.
The instant score report after practice test submission shows test performance in each of the content areas. The score report does not provide correct answers or indicate which questions were answered correctly and incorrectly. Once the practice test is scored, you cannot return to the test to review the questions.
NOTE: The successful completion of a practice test is not required to sit for the certification exam, nor does it guarantee a passing score on the exam. The practice test has been developed by subject matter experts in the profession and is provided for review purposes only. Completion of the practice test does not substantiate a candidate's readiness to sit for or successfully pass the exam.
The fee to take the practice exam is $99.
To register and take the exam, visit the Professional Testing Corporation.
About the CPDT-KSA exam
(Certified Professional Dog Trainer-Knowledge and Skills Assessed)
SPRING 2019 TESTING PERIOD 
Application Deadline: Thursday, March 28, 2019
Testing Period Begins: Thursday, April 25, 2019
Testing Period Ends: Thursday, May 16, 2019
FALL 2019 TESTING PERIOD 
Application Deadline: Thursday, July 18, 2019
Testing Period Begins: Thursday, August 15, 2019
Testing Period Ends: Thursday, September 5, 2019
The 2019 CPDT-KSA Candidate Handbook will be released in early 2019 and will contain the examination information, including a complete content outline and a sample exercise. Here's an overview:
Format: Practical training exercises, submitted by video recording
Duration: 3 weeks to submit 4 video recordings
When: During a 3-week testing period
Where: Online submission of videos produced at a suitable location chosen by the candidate
Cost: $225 for current CPDT-KA certificants
Who: Administered by a professional testing company and graded by subject matter experts
What will I be tested on?
Training skills
Instruction skills
Training equipment
Application of modalities
CCPDT training policies & position statements
For details on each examination domain, please see the CPDT-KSA Candidate Handbook.
How our tests are developed
When we develop a new examination, we begin by putting together a committee of recognized subject matter experts in that particular field of practice. Through a series of meetings, these experts develop the content outline for the examination.
Once the content outline is done, additional subject matter experts are asked to draft questions, all of which must tie to a citation in recent literature relating to that field. The questions (called 'items') go into an Item Bank and from there go through the vetting process described above. For a step-by-step description of the process, see Test Development.
This process of exam development follows the testing guidelines of the Institute of Credentialing Excellence.